If you are not able to attend our Embroidery Classes, you might like to try a Stitching Club. Stitching Clubs are a very enjoyable process and it's great to receive a surprise in the post each month. Give it a try!
How do stitching clubs work?
A stitching club is like a mail-out class. You choose a project and we send out the instructions in monthly parts.  Each  project explores different techniques and in some cases we introduce new threads or embellishments. You will receive detailed instructions on how to complete the work each month but you will need to have a basic stitch book like The A-Z of Embroidery Stitches as we don't provide details of every stitch used.
This series of clubs will begin as soon we have enough people signed up and have received the supplies. Places are limited for some projects, so please sign up quickly. We generally do not repeat projects as in many cases the materials chosen are only available for a limited time.
You sign up for the project of your choice and commit to receiving each part for the length of the project. You will be billed monthly in advance.
We prefer credit card billing each month, or you can make arrangements to pay online. We cannot send out any installments without pre-payment so if you don't do credit card or online banking you will have to contact us to make other arrangements.
Example Stitching Club project
FAVOURED SHADES: A MYSTERY SAMPLER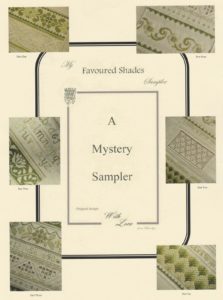 This mystery sampler is a counted work project, in band sampler format, worked on 28 count linen. The finished sampler is 15cm wide and 63.5 cms long. Because it is a mystery sampler you only get to see  snippets as you go. All will be revealed when you have finished.
You can choose from 6 colourways. the sampler is intended to be worked in 4 main colours with extra shades just for the bargello section. You can personalise your sampler by adding an overdyed thread for the alphabets and numerals, beads and other embellishments, a favourite verse in place of one of the bands. There is plenty of opportunity for you to be creative and put your individual stamp on it. We have included one overdyed thread.
The project will continue over 6 months but all the fabric and threads are sent out at the beginning, so payment is up front.
Cost for whole project (incl. postage) : $150.00