Embroidery Classes
  2017 EMBROIDERY CLASSES       
Embroidery classes for beginners to pros from NZ's most established needlework suppliers, The Embroiderer.  All classes are held at The Embroiderer in Birkenhead, Auckland (unless otherwise stated). Morning Classes are 10am to 12 pm and afternoon classes are 1pm to 3pm Please make sure you get a requirement list for your class. Classes are held in our bright and cheery classroom at the rear of the shop unless stated otherwise. We have provided below a list of what to bring to class. We order in tea or coffee from the café next door and the idea is to come and have a fun session, make new friends and learn a new skill. You will always work to your own level with no pressure and everyone is very friendly.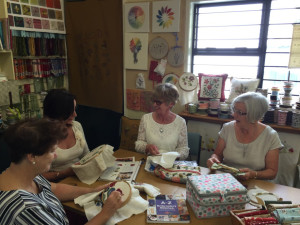 Let's Start at the Beginning Beginner's Basics Wednesday morning Term Four begins 25th October 7 weeks $90.00 This class teaches the basic embroidery stitches which can then be applied to other techniques like crewel work or stumpwork as you become more confident. A choice of projects is available depending on your level of experience This class is suitable for absolute beginners or those with some stitching experience wishing to learn a new technique. You will learn stem stitch, chain stitch, fly stitch, satin stitch and bullions among other stitches. Also how to get design on to fabric, use a hoop and what needles and thread to use. There are a couple of places in this class.
Students will now learn to progress their skills further and work on a project of their choosing
Learn what to bring to embroidery classes
---
Counting the Threads
Wednesday Afternoon. Term Four begins 25th October. 7 weeks $90.00
This term we will be working on small projects for Christmas. It is always nice to have or give handmade Christmas decorations and we have lots of lovely projects to choose from. You can work to your own level. Our little Humbugs are always admired and make a great gift or you can make a mini stocking and fill it with treats for someone special. There is enough time to get two or three things made if you are quick. There are a couple of places in this class.
Crewel and Beyond
Thursday Morning. Term Four begins 24th October.  7 weeks $90.00
In this class we are working on crewel projects or blankets and  some are moving on to Christmas projects. There may be a couple of places in this class
Embroidery or Knitting Clinic Thursday Afternoon. Two hour session from 1pm to 3 pm $20.00 for one person. $15.00 per person for more than one. All levels.
If you have a problem you need solved, or wish to learn a particular technique but don't have time for a regular class then make an appointment for a one off lesson. Or you can bring a friend and have a private class if you have something particular you want to do. Need help with fixing a problem? Make a booking.
Want to learn to knit? Make a booking
Want to learn how to make bullion roses? Make a booking.
Learn what to bring to embroidery classes
---
Moving Beyond the Basics
Friday Morning. Term Four begins October 20th.  7weeks $90.00
This class is for Intermediate Stitchers.
Class members will continue to work on the silk ribbon jewellery pouch. This class is full.
Learn what to bring to embroidery classes
STITCH AND CREATE
Saturday Morning
Term Four begins 28th October. 6 weeks excluding Sat 25th Nov. $80.00
This is a fun class which focuses on surface embroidery. It does not include counted stitch techniques.  The tutor is Joan Hamilton who is very experienced and she will work with you on a project of your choice or suggest something for you. You will explore how to use, translate and think about basic stitches and colour in a variety of ways and Joan is full of inspiration and very flexible. This class is suitable for all levels and needs a minimum of 4 to go ahead.
This term Joan will be working a sampler quilt on wool with embroidered blocks which can be as simple or as complex as you like. Or you may choose to complete what you were working on last term.
Learn what to bring to embroidery classes
---
STITCH GROUPS
STITCH AND CHAT Friday Afternoon.
Eight places. Book for a term of 8 weeks. This group has finished for the year but will resume next year.
A nice way to end the week. Eight places available Got some unfinished projects? Need some encouragement? Need to meet new people because none of your friends are into stitching?
Come and join a group of like-minded folk for an afternoon of stitching therapy. Order a tea or coffee from the café next door and make a regular date to work on your projects. Even 2 hours a week is a good start and it might spur you on to work on your needlework more at home too. It is just about setting aside the time and sometimes being away from the distractions and chores at home is just the answer. No tutor but expert advice is available.
Learn what to bring to embroidery classes
---
---
The Fine Print Payment must be made in full for each term before a place can be secured. We can pencil you in but your place is not guaranteed without payment and a paying customer will take precedence without notification. Classes at The Embroiderer are limited to 6 – 8 so please enrol early to avoid disappointment. Classes at Highbury House are limited to around 12 people. Classes are the way we inspire and create new interest in the wonderful world of needlework. We aim to foster a love of the art of embroidery in a mutually supportive sharing of ideas and an eagerness to learn more. If the class doesn't go ahead due to lack of numbers you will be refunded. A decision will be made a week before the class. All supplies , if you don't already have them, should be purchased from The Embroiderer. We keep our class costs to a minimum so that we can pass on our skills. In return we'd appreciate you supporting our business.  We want classes to be an enjoyable experience for everyone so please try and be on time and prepared. If you can't make a class for any reason please make a courtesy call to inform us so we are not waiting for you. Everyone has times when they can't come to class for holiday, sickness or other reasons. We understand this but unfortunately we can't refund for missed classes. Nor can they carry over to the next term. Where possible we will help with a catch up but cannot guarantee that. If there is something you would like to learn and it is not covered here please talk to us and we will see if we can help.